back to: Feeders - Seed Feeders
RSPB Defender Range
A robust collection of metal feeders, hard wearing, long lasting and an attractive feature in your garden.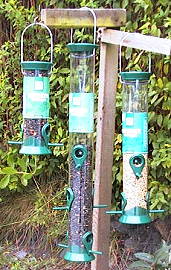 high quality
long lasting
This range of seed feeders from the RSPB Birdcare Range are made from die-cast, powder-coated zinc and polycarbonate tubing. The high quality metal offers you the beneift of durability, long life and a high level of resistance to squirrel damage.

All feeders are 6cm in diameter.

The small feeder is 20cm in length, can hold 250g of seed and has 2 feed ports. The medium feeder is 35cm in length, can hold 425g of seed and has 4 feed ports. The large feeder is 52.5cm in length, can hold 625g of seed and has 6 feed ports.