back to: Feeders - Peanut Feeders
RSPB Discovery Range
Ideal range of feeders if you are new to bird feeding or have a small garden or balcony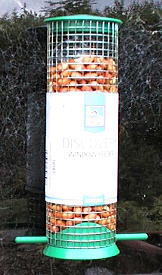 ideal for the smaller garden or balcony
available as a hanging feeder or to attach to windows
perfect if you are new to bird feeding
Available as either a hanging feeder, or with 2 suction pads so you can attach the feeder to your window.
These feeders are made from slightly less dirable plastic than the challenger range and are ideal for small gardens or balconies - with no squirrel visitors.

Both feeders have a capacity of 315g are 21cm in length and are green in colour.