back to: Feeders - Nyger Feeders
RSPB Challenger Range
Plastic feeders - ideal if no squirrels are present in your garden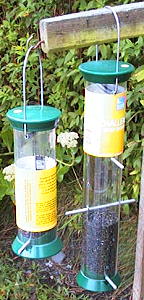 hard wearing plastic
ideal addition to the feeders in your garden
nyger is a real magnet to goldfinces
These nyger feeders are made from highly durable plastic and have very small openings to ensure that the seed is accessible to birds but does not fall freely into your garden.
Available in green, this range of feeders come in 2 sizes:
the small feeder has a capacity of 250g,is 20cm long and has 2 perches.
the large feeder has a capacity of 425g,is 35cm long and has 6 perches.