back to: Accessories - Nest Boxes
Large Bird / Little Owl Nesting Box
Our largest bird nesting box doubles up as a Little Owl nesting - approx. 3 times the size of the standard bird box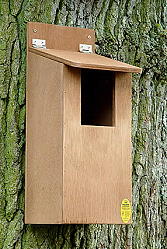 exterior quality resin bonded ply
corner drainage holes in floor
manufactured with surface sunk nails to resist rusting
coated with a non-toxic water repellant finish
Our largest bird nesting box doubles up as a Little Owl nesting - approx. 3 times the size of the standard bird box - it comes with convenient access for cleaning etc., through its hinged roof, and flip over latch lock. A very versatile box which can house many of the larger birds such as Doves, Jackdaws, Pigeons, Thrushes etc. The front aperture is large enough to be able to see who is in occupation, but don't look too often or you may put them off!

Designed to attract: Woodpeckers, owls, starlings, doves, pigeons, jackdaws and kestrels together with many of the large British birds.

Size:52cm Height x 20.5cm Width x 19cm Depth

The box fully conforms with all RSPB specifications.