back to: Accessories - Nest Boxes
Sparrow Terrace
The perfect environment for up to three pairs of sparrows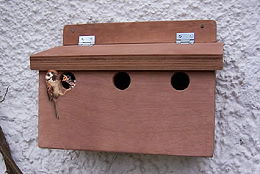 exterior quality resin bonded ply
drainage holes in floor
manufactured with surface sunk nails to resist rusting
coated with a non-toxic water repellant finish.
The sparrow nest box is sub-divided into 3 compartments, and made with 12mm exterior quality resin bonded ply. It is the perfect environment for up to three pairs of sparrows - with 3.2cm holes at either end, and in the centre. The Sparrow Terrace box is designed for convenient access for cleaning etc., through its hinged roof, and flip over latch lock. Ideally situated under the eaves of a house.

Designed to attract: Up to 3 pairs of Sparrows - buy them their own home and stop them nesting in the house eaves!

Size:30cm Height x 39.5cm Width x 14cm Depth ; Holes 3.2cm

The box fully conforms with all RSPB specifications.