back to: Bird Food Mixes
Premium Bird Mix
Based on our Premium Original Bird Mix this attracts a wide variety of garden birds.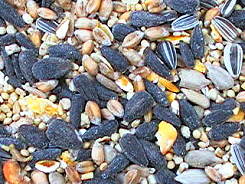 High in energy
High in oil
Seasonally adjusted
Attracts a wide variety of garden birds
Ideal for feeders and bird tables
Ingredients of exceptional Quality
A specially formulated high energy mix of significant value when nutritional demand is high. Seasonally adjusted with minerals during the breeding season in order to maintain healthy egg production.

Suitability:

**

***

**

Contains: Wheat, Black Sunflower, Kibbled Maize, Striped Sunflower, Pinhead Oats, Millet, Sunflower hearts, Nyjer seeds and Chopped Peanuts.