back to: Bird Food Mixes
No Mess Bird Mix
Developed from the ever popular Traditional Original Garden Bird Mix and formulated to provide a clean feed for a wide variety of garden bird species.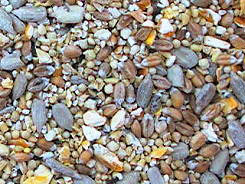 Ideal for bird tables
Quality ingredients
No messy husks to clean up
Specifically designed to attract a wide variety of species, high in energy with husks removed from the sunflower to keep your garden clean.

Suitability:

**

***

**

Contains: Wheat, Sunflower Hearts, Kibbled Maize, Pinehead Oats, Nyger Seed, Chopped Peanuts.